This Week In Jeep: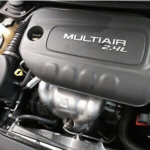 Major Jeep Engine Recall Coming Soon
Fiat Chrysler Automobiles is preparing for a possible recall over an emissions issue affecting about 1 million vehicles, including Jeeps equipped with its 2.4-liter Tigershark engine. Excess tailpipe pollution was released during testing on the vehicles but, according to the company, that's not connected to claims in various lawsuits that the gasoline-powered engines burn excessive amounts of oil. It's not known how soon the recall could happen or exactly what the fix will be, OR if it will even address the oil issue. Those oil consumption complaints have led to class-action lawsuits against the FCA in both California and Michigan. FCA, through its spokesman, said it doesn't discuss ongoing litigation but that if customers have any concerns they can contact their dealers. The extent of pollution from the Tigershark emissions was not clear in the reports that are out right now, other than there was just an excess of it. FCA says it has been in contact with the EPA and California Air Resources Board about the situation and has been working closely with them over this issue.  As the population of FCA and Jeep vehicles with these Tigershark engines ages, some vehicles exceed in-use emission requirements, depending on drive cycle and mileage. But isn't that normal? As you get older you start to expel a little more out the tailpipe?  FCA is conducting test programs to define a remedy, which also requires approval by the aforementioned agencies.  Affected customers will be advised when service becomes available, and any repairs will be provided free of charge.  This is not a safety issue and there are no enforcement actions at this time.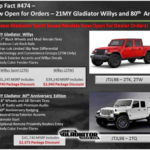 Two New Gladiators On The Horizon
Jeep's decision to take the Wrangler and create the Gladiator has proven to be a resounding, award-winning success. In fact the Jeep gladiator has won more awards than you are probably aware of. From best in class towing and payload, to winning multiple best pickup of the year awards, the gladiator is not a failing Jeep line. The one slight disappointment may be the pickup truck's trim options — or lack thereof.  The Gladiator began with a pared-down lineup of four trims; the Wrangler, by comparison, currently has 13 different variants. Since it launched, Jeep has been fleshing out the choices in the Gladiator lineup, with the Desert Rated Mojave version and the North Edition. Now, according to a leaked dealer bulletin, two more trims may be incoming. The dealer bulletin outlines some specifics behind what are clearly two new Gladiator trims: the Willy's Edition and the 80th Anniversary Edition. The 80th anniversary edition Jeeps we've already speculated on, now at least we're getting some confirmation about the new trim packages. Both would be based on the base Gladiator Sport, and come in at the lower end of the truck's price spectrum. The Willy's Edition is similar to the same trim on the Wrangler, where it features 17-inch black wheels, a blacked-out grille and black detailing. It also offers some off-roading improvements, including a Trac-lok limited-slip rear differential, Rubicon rock rails and mud-terrain tires. It will reportedly retail for $39,240 MSRP with the Technology and Convenience package, and $35,245 MSRP without. The 80th Anniversary Edition, unique to the Gladiator, is reportedly more of a style-and-tech package. It includes 18-inch wheels, body-color fender flares, all-terrain tires and neutral gray exterior accents all around. It also adds the Premium Audio package and remote start. That trim will reportedly start at $41,740 MSRP. Adding more lower-level trims to the lineup makes sense. The Gladiator has done exceptionally well with affluent buyers who are going to blow out $60,000 builds, but we've seen Jeep offering discounts on the base models too. The base price of $33,545 leaves the Gladiator Sport competing head-to-head with upper-level TRD Off-Road, Limited and Pro trims of the Tacoma, for example — making it a less-appealing proposition. These new trims may, effectively, be reasonable builds of the Gladiator Sport. But making them into separate trims makes it feel more of a premium to buyers.  That may help Jeep sell cheaper Gladiators, which they need to do if they want to compete with the Tacoma (not to mention the Ford Ranger and Chevy Colorado) on sales volumes over the run of the next model year. So what do you think? Will the Gladiator see the kind of sales numbers that the Ranger or Tacoma have seen?
Tech Talk With Jeep Talk: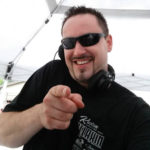 Mitigating Cable and Port Wear
I had another topic I was going to cover on this episode, but when I checked the Jeep Talk Show emails, I saw a great submission from listener Chris that I thought would be a lot more fun to cover. Chris wrote into the show and asked if there was a way to prevent the spring end of his auxiliary cord or the port itself from wearing out. It's a good question, because most of us nowadays are using our phones as the source for audio in our vehicles. From navigation to communication and now pretty much every facet of entertainment in our vehicles comes from (or at least originates from) our cell phones. Pandora, Spotify and a myriad of other streaming services all mirror linked to the screen on your dash from the screen on your phone. Bluetooth has made this effortless other than for the act of paring the devices to one another. But what if your stereo doesn't have bluetooth? Then most of us revert to using the old headphone jack and an auxiliary cable to get audio from the phone to the stereo in the dash. Or maybe from the phone to a FM modulator that in turns sends the audio through a dead station in the car stereo. The problem with this is that you generally have the phone moving all around. You pick it up, you put it down, you watch as it moves from your lap to underside of the brake pedal, or from the cup holder to the passenger side floorboard with such vicious velocity that you just know  the cable is being tested to its limits. And so is the port in which it's plugged into. That little 3.5mm headphone jack can only take so much abuse before the very thin metal contacts inside get worn or over extended. Most metal contact points for things like audio jacks generally have some spring back as they are designed to be used through tens of thousands of cycles of cables being plugged in and unplugged. But when you throw in bouncing around in a lifted Jeep, or trying to outlive the rigors of the offroad, or even that left turn that now has your phone well out of reach, the contacts will eventually get over worn, or moved to a point beyond the spring back, where they don't make as good of a connection to the cable end as they used to. And speaking of that cable end…. As the cable gets used more and more, bent this way and that, the once little slit on the edge is now a fray on the spring end of the plug that seems to open up a little bit more every day. You see almost every cable that is meant to be repeatedly manipulated will have a spring end. A tapering buildup of the plug body to the cable itself, usually conical in profile, and with radial reliefs along it allowing it to flex and bend much like a spring. This is supposed to aid in relieving the stresses of repeated bending and tugging. In actuality, it just moves the point at which the cable will start to fall apart and eventually fail, further down the cord. It does help the jack though, but only somewhat. Chris hoped there was a solution and even asked if gluing the plug into the jack would solve this. And believe me when I say, Chris, I feel your pain more than you know. I can't tell you how many charging cables, auxiliary jacks, and even audio cables in DJing I've had to finagle, zip tie, rubber band or even tape in place just to get to work right. I'm sure if we opened this topic up to the camp fire side chat we'd have all sorts of colorful stories about clever solutions. In the end, if you decide that gluing that cable into the jack permanently will forever solve your problem, then consider yourself a temporary genius. Because that will work, but only for so long. At least as long as the cable does anyways, and no cable will last forever. Once that cable goes, you're looking at a full head unit replacement unless you can live without an aux port, or somehow UNGLUED what has been glued without damaging anything. There are ways around this. First and foremost is going to be having a mindset to secure the cable near the stereo to the dash to eliminate stress from cable movement or weight on the jack or port itself. This can be done with a little piece of tape, hot glue, or even a zip tie mount with an adhesive back. These little one inch square plastic tabs have four sides that you can slide a zip tie through, creating a hard mount for virtually any tube or cable that it can support. You're dinky audio cable will be nothing to this thing, and you can get a 50 pack of them on amazon for less than 10 bucks, so it's a super cheap solution, AND you're not making a permanent mod to your stereo. Another option is going to be to use the dash trim to secure that cable, and then route it to an area near the center console where you can get to the other end. This is how I have done things in my own rides over the years. The aux cable is plugged into the port, and then immediately turns down or to the side and disappears behind a piece of trim only to come out near one of my cup holders. The jack in the stereo never gets messed with, and is under almost no stress at all. That's of course all fine and dandy if everything still works, but what if the jack is already worn, broken, or not working right? First I would replace the cable with one brand new and not one from the dollar store. This will ensure you get a good quality cable, with unworn ends, whose tolerances are going to be a little tighter than the cheap stuff at the dollar store. The other reason you want to spend a little more here is that the cheaper the cable is, the less quality you are going to see. The shielding and protective outer layer will thinner and will break easier. The wires inside will be angel hair thin, and will easily break with a hard enough pinch or tug. And usually these cheaper cables don't have the stress relieving ends that the more expensive cables will have. That and your worn cable ends are already part of the problem. It might be that you just have a cheap quality cable or one that is already too worn to function properly. Next is going to be something for those who are more technically inclined and have access to electrical repair tools and a familiarity with circuit board layout and the principles of removing and reinstalling a through hole or surface mount connector. Because essentially what you will be doing is removing the stereo or aux port from the dash, and removing the actual jack component from it's mount or the circuit board inside the stereo. Obviously this will involve some serious disassembly.   You will have to locate and then identify the 3.5mm jack, and then find a suitable replacement that can be installed. You may find that there is just a loose solder joint and it's an easy fix with just some touch up work with a fine tipped soldering iron. Clearly this isn't for everyone and may be better suited for an electrical repair shop. But still, this repair will generally be cheaper than replacing the stereo as a whole unless you completely cheap out. If desoldering a component from a circuit board is a little above your pay grade, but some minor disassembly of the stereo isn't, then consider manipulating the contacts inside the jack.  You will need to have a really good set of pick tools for this, surgical like steadiness in your hands, a very well lit work area, and a metric tonne of patience. It sounds intimidating, but it's not hard if you have the right gear. Basically what you're doing is getting into that small little female jack and pulling the contact points inside of it back down to the center line to potentially give a better connection. There is no guarantee this will work, and you have a higher likelihood of breaking the contacts than manipulating their position enough to provide a better connection. But if you're really good or really lucky, then you might be able to get somewhere and may be able to make a more permanent fix. There's no off the shelf solution for a worn auxiliary jack, as what you're fighting here is the results of abuse and wear, and there's only so much of that you can reverse or mitigate before you have to replace.   
Newbie Nuggets: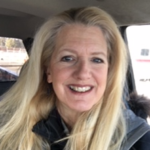 I have talked about getting the newbie driver in the jeep and out on the trail and I've mentioned about getting the passenger into the driver seat and it occurred to me that perhaps I didn't mention that being a great mentor can have a lasting effect on a newbie. Are you a good mentor? This is really a question only you can answer yourself. But if you have patience and a skill set to share then most likely you fit the role. Being a good mentor is someone who listens to what the newbie is actually asking, not just the question. Sometimes a newbie has a question that you may feel is basic or you assumed they mean something else. I have found asking a follow-up question can really help the newbie understand what you are trying to convey, and even help you to understand what they were really asking. We really do need more mentors in a lot of areas of the world right now, but today I will limit it to just about jeeping. Mentors help those of us learn, at our own pace, and gain knowledge that we then can use and then turn around and pass along. Having knowledge helps us gain confidence and try more trails. Example, we had a relatively new jeep driver off-roading join our club. Her jeep is mostly stock. When I asked her if she wanted to lead a run, her initial reaction was NO WAY, I can't do that. I followed up with sure you can, I will be there to assist you the whole way. Pick an easy trail you like and we will set up a day and time for the run. The date was set and everyone showed up at the meet point. I helped her with the waivers, and helped her with a list of what to cover in the drivers meeting. I also lent her a radio as she was the lead and we brought up the rear. She had a great day and that set her up for another run and now she has lead several of the easy trails and is more comfortable with stops and info along the way. Being a mentor is very rewarding when you see a driver blossom and gain confidence. She is now adding a few things to her daily driver like rock sliders, bigger tires front & rear bumpers and some other things, UH HUH…. And so it begins. Had I not guided her and been willing to help without pushing, she may never have had the courage to try and lead. I think as mentors we serve as stewards of all things off-road – which ensures we pass on to future generations that we will have access to the trails through-out the country. On another occasion we helped Don Alexander with a student enrolled in his Jeep off-road school. She was new to driving off road and I was able to ride with her as we took her through the course. We traveled over easy roads to an area that had steep climbs, off camber and some deep ruts. She really learned how her jeep felt and how it moved through the obstacles. But she was also learning how to pick a line and how to judge the width and length of her jeep – things she admitted seemed foreign to her. Getting a chance to learn all kinds of options with her jeep really made her day. This jeep was fairly set up, 35" tires, 3-1/2" lift and rock sliders. No body armor (yet). It was really exciting to see her go at her own speed, and yet help her build her confidence. She wasn't used to someone taking their time and letting her go through the process. By the time we were finished I told her she could easily do a medium trial with another jeep. And with experience and a few more times out she could tackle the black diamond trails – I did recommend some body armor however. UH-HUH Mentoring can also be as simple as helping someone along the way. You never know the impact of your interaction with another jeeper and how encouraging it may be. When you mentor, do you get out of the jeep and allow the driver to see the obstacles from all angles or do you just tell them what to do? Do you help them when it's time to air down and show them how the tools work or do you just air down for them? What about explaining how to go into 4-lo or 4-hi and how about when to use their lockers or disconnect their sway bars and help explain why? All of these things us experienced jeepers know without thinking… but a newbie really does need to know the basics. And taking a little bit of time to help them understand can mean the difference of encouraging them to get out on the trial or keeping them from trying.  Mentors are good ambassadors for the off-road community. Be a good mentor
Must Have Stuff: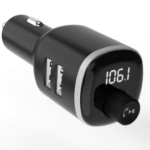 Scosche BTFM4-SP1 BTFREQ Universal Bluetooth Hands-free Car Kit with FM Transmitter and Dual USB Ports Make hands-free calls from your bluetooth enabled smartphone. Wirelessly stream music from the adapter to your FM stereo. Dual USB ports on the 12V car charger quickly charges your device. LED Display shows the exact frequency the transmitter is tuned to for convenient syncing. The transmitter can be used with Apple and Android devices. Comes with a 3 year warranty. https://amzn.to/30xFqNW  $24.99 and Free Shipping
Campfire Side Chat:
Mistakes happen, bad choices get made, and sometimes we listen to bad advice when it comes to making mods on our Jeeps. Whatever it was, you wish you could go back and undo it.  What is/was the one thing you wish you never did to your jeep? Thanks to Chris, Greg, Nicky G and Jared for joining us around the campfire!  NEXT WEEK: "CB Antennas – They come in all sorts of sizes and lengths, do you run a metal or a fiberglass Antenna? Why?  And how big is it? …Are you a "Stick" or a "Whip" kind of Jeeper?
Links Mentioned in this Episode: 
Jeep 4-1-1 (links, tips, tricks and techniques) https://www.youtube.com/user/backcountrydriver
Coyote Enterprises (tire deflators) https://www.coyoteents.com/
Strong-Adhesive-Backed Mounts Cable Tie Mounts https://amzn.to/3fAwfAJ